3 day/ 2 night getaway in Madisonville
Bidding temporarily suspended
Auction item details Item # A2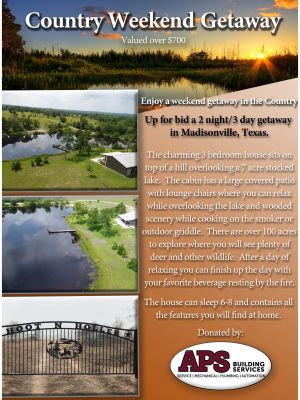 Value: $700
3 day/ 2 night getaway in Madisonville
Weekend getaway in Madisonville. Enjoy 3 days and 2 nights on 100 acres in a 3 bedroom cabin overlooking a 7 acre stocked lake. Land has an abundance of wildlife as well as wooded and lake scenery. Cabin has a covered patio with a smoker, outdoor griddle, and lounge chairs. Cabin can accommodate 6-8 people and has everything you need for your weekend getaway.
Restrictions: You will need to contact Ron Brittain to setup the accommodations.
Donated By:
Ron Brittain

Thank you for supporting the ministry of Concordia Lutheran High School! The value of your donation may be tax-deductible; Concordia Lutheran High School is a 501(c)3 organization. Tax ID #76-0074905.