Live Altadena Youth Rock Band at Your Next Event/Party!
Auction item details Item # A145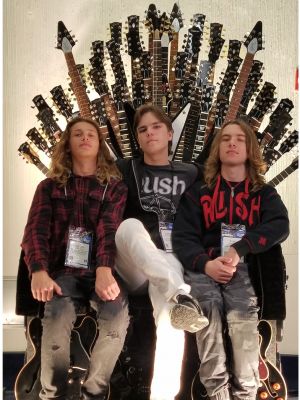 Value: $500
Live Altadena Youth Rock Band at Your Next Event/Party!
What happens when 3 young musicians meet who have a mutual and deep love for Van Halen, Rush, Tool, and Alice in Chains? And then they forge a friendship based on making new music? You get SURGE, a teenage power trio! These SoCal rockers have been together for over 4 years and are dedicated to bringing authentic Rock Music back into popularity... and to the masses. Kick back, drink them in, and feel the power of SURGE at your next big party!

See samples of their music on Instagram @Surgebandofficial and on YouTube (https://www.youtube.com/channel/UC59ox6cyIfQLAPtSO6sNTsg).
Restrictions: Booking will be mutually agreed upon time in 2021. Weekends only, limited to 2 hours play time. 10-foot perimeter for band/COVID safety, within 60 miles of Los Angeles, preferably outside. Winning bidder must provide electricity outlet and any sound permit. Any requests for specific music (3-5 songs) can be made with 3 weeks advance notice. They have many original songs as well as covers!
The Altadena Library Foundation is a registered 501(c)(3) Tax ID#27-0999622.