Beer Basket Great Birthday Gift
Auction item details Item # A45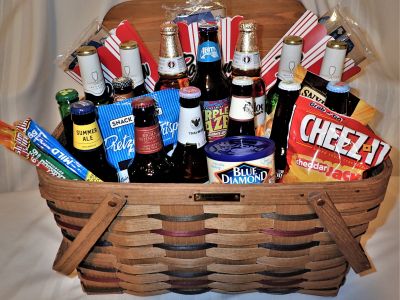 Value: $40
Surprise Picnic!
The surprise is . . .Your vintage picnic basket is full of beer!
You're ready for a party. This basket contains the following beers:

One Flying Dog One Omne Gang
One Carlsberg One Old Speckled Hen
One Golden Monkey One Singha
One Sam Adams Summer Ale One Purple Haze
One Hazel's Nuts Four Stella Artois
2 Modelo

Plus Snacks: Cheez-its, Snyder's Honey Mustard Pretzels, Pretzel
Crisps, 3 Slim Jim's and a can of Blue Diamond salted almonds
and 3 packages of microwave popcorn.


Restrictions: This item cannot be shipped but can be delivered to you within 15 miles of Peoria, IL.