Jack Daniels Sampler in a Poker Themed Gift Basket
Auction item details Item # A36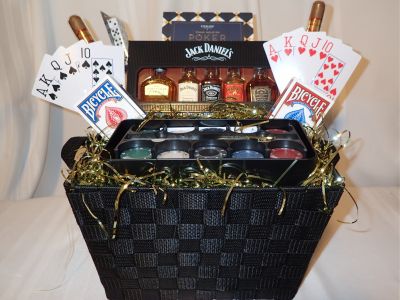 Value: $50
Poker Night
Everything you need for a great night of poker with your friends. It includes a Jack Daniels Sampler containing Gentleman Jack Whiskey, Tennessee Honey Liqueur, Jack Daniels Tennessee Whiskey, Tennessee Fire, and Jack Daniels Single Barrel Select.
Plus, there is a very nice set of poker chips in an attractive tin that includes special items for Texas Hold 'Em. There are 2 decks of cards, 10 dice and 2 Blenders Gold cigars.
Restrictions: Cannot be shipped but can be delivered to you within 15 miles of Peoria, IL.
Donated By:
Friends of Limb