In-Home Wine Tasting!
Bidding temporarily suspended
Auction item details Item # A110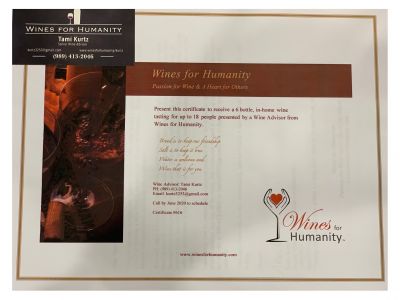 Value: $250
In-Home Wine Tasting!
Explore your love of wine with an in-home, 6 bottle, wine tasting for up to 18 people presented by a wine advisor from Wines for Humanity! Party will include 6 bottles of exclusive and premium international wines, wine education and a wine advisor to help take you on a private tour through the wonderful world of wine. The best part?? A portion of the proceeds from all wine selected at your tasting will go to benefit a local charity to help with the prevention of homelessness.
Restrictions: Must be 21 to purchase. Call by June 2020 to schedule tasting.
Donated By:
Tami Kurtz