Legends of the Hunt Package-2 books by John Seerey-Lester
Auction item details Item # A20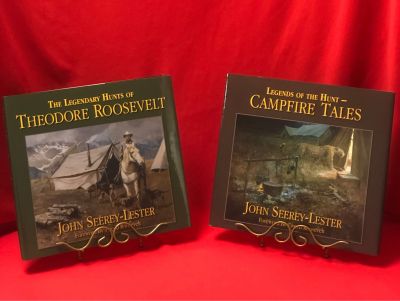 Value: Priceless
Legends of the Hunt Package-2 books by John Seerey-Lester
Legends of the Hunt Package-2 books by John Seerey-Lester
Legends of the Hunt: Campfire Tales by John Seerey-Lester. This celebrated artist shares 60 true stories and more than 150 paintings and drawings that document life-and-death encounters with dangerous game and strange, often bizarre events that defy description. Most certainly you will find yourself drifting back in time to join those honored men and women as they relate their adventures around the campfire.

The Legendary Hunts of Theodore Roosevelt by John Seerey-Lester. Features over 60 chapters devoted to Theodore Roosevelt's most spectacular hunts on three continents. Complementing Seerey-Lester's meticuluously researched text are some 150 paintings and sketches, which altogether provide a unique glimpse into the life of the former president and his passion for wildlife and adventure.


Donated By:
TCGOP
Thank you for your support!