1880's Replica Texas State Capitol Door Hinge (2 of 2)
Auction item details Item # A128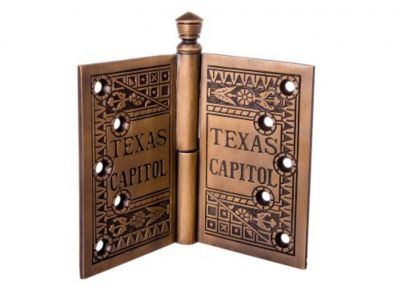 Value: Priceless
1880's Replica Texas State Capitol Door Hinge (2 of 2)
This delightfully decorative limited-edition bronze hinge is an exact replica of the breathtaking custom-crafted door hinges first installed in the Texas State Capitol during its construction in the 1880s. Each element is hand-forged by Bastrop sculptor Clint Howard of Deep in the Heart Foundry using the original glass molds created by Sargent & Company of Connecticut, makers of custom hardware since 1810. The acorn tips and geometric and floral design reflect the Aesthetic Movement (1880-1890), a period in the decorative arts that focused on beauty and nature and anticipated Art Nouveau and Arts and Crafts. This is 2 of 2.
Donated By:
Honorable Stephanie Klick
Thank you for your support!