A Traditional Christmas
Bidding starts Wed, Dec 2, 2020 at 5:30:00PM
Auction item details Item # A202 - Section 1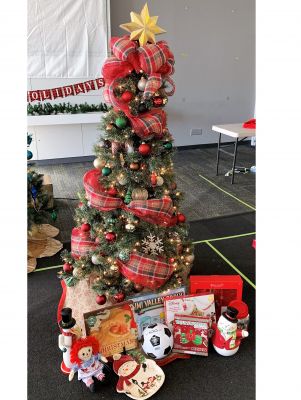 Value: $360
A Traditional Christmas
Hoping this brings warmth and love to you! Merry Christmas!
In Memory of Debbie Thomas

This cute 6-foot pre-lit tree is decorated with plaid burlap and various green, red, and gold traditional ornaments. The gold tree topper will steal the show as it casts beautiful images of snowflakes on your ceiling. The festive tree is surrounded by fabulous items to keep you busy during the holidays: The Simi-Opoly Game, The Ugly Sweater Christmas Cookie Decorating Kit, The Night Before Christmas Book, A Disney Gingerbread House Kit, and many other fun, decorative items.
Donated By:
Janet Armstrong - A few of Debbie's dear friends: Jan, Barbara, Barb, Bonnie, Jenny, Terri D, Deb, Elaine, Monica, Marie, Paula, Kathi and Teri B.
The Adventist Health Simi Valley is a 501c3
charity dedicated to the health and well-being
of the communities we serve.
Tax ID. #95-6064971