Marina Sirtis/Counselor Troi Art Print
Auction item details Item # A47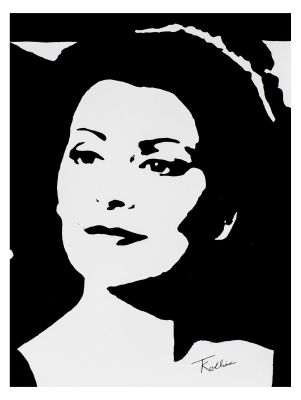 Value: Priceless
Marina Sirtis/Counselor Troi Art Print
From the Artist:

This is a unique, one-of-a-kind, ink drawing made exclusively for the Hollywood Charity Horse Show Silent Auction.

Legend has it that when casting "Star Trek: The Next Generation," Gene Roddenberry was "inspired to ask the 'exotic-looking' and talented Marina Sirtis to audition for a role." The rest is history.
Troi is a valuable part of the crew of the Enterprise-D. Her ability to sense feelings and emotions provided insights to resolve many precarious situations.

The waterproof black ink was applied with a Dip Pen. The paper is watercolor cold press 140 lb (300g/m2). It is shipped flat. The dimension of the artwork is 9 x 12 inches. A certificate of authenticity is provided.
Restrictions:
Please Note: Your bids represent amounts for the items only.
We use a third party shipper who will be in touch if you are the successful bidder to offer various shipping options to you at an additional cost. Please ensure that you understand the size and weight of each item before bidding.
Please Ask Questions as Items are **FINAL SALE!**
Again bids are for items only: shipping is NOT included!!!
Donated By:
TED KOLLIAS