William Shatner / The Cramps - Uncut/Unassembled 12-inch Record Jacket - Signed by Mr. Shatner
Auction item details Item # A47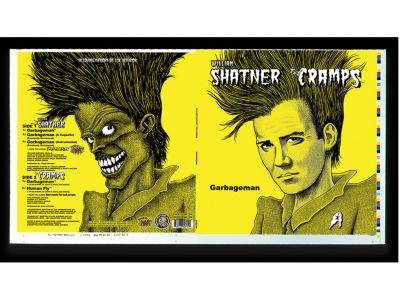 Value: Priceless
William Shatner / The Cramps - Uncut/Unassembled 12-inch Record Jacket - Signed by Mr. Shatner
The stunning front and back cover art from the "Garbageman" limited edition split maxi-single featuring pop icon William Shatner and legendary punk band The Cramps is beautifully showcased on this extremely rare piece of record production history. An uncut and unassembled record jacket taken straight from the pressing plant, suitable for framing and unavailable for sale anywhere!
The piece will be signed by Mr. Shatner.
Get it framed and add it to your office or den as a unique piece of art!

Active image area measures approx. 12.25" x 24.5"
Restrictions: Note: You are only bidding on the item. Shipping is NOT INCLUDED! Shipping is handled by a third party. If you are the successful winner of this auction. You will be contacted in 7 to 10 days after the auction clears your payment on how to contact the third party shipper to arrange for payment and shipment of your item to you.
Donated By:
John Cafiero - & Demented Punk