A History Of Mechanicsburg and the Surrounding Area
Auction item details Item # A349
Value: $85
Donated By:
Simpson Library Book Sorters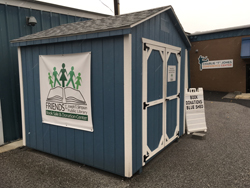 Description:
Written by local historian Norman Keefer in 1976, this autographed copy of
A History of Mechanicsburg and the Surrounding Area
reveals a comprehensive history of the Mechanicsburg area from its earliest beginnings to WWII era. It is a fascinating account with extensive illustrations. A bonus in this package is the booklet
Mechanicsburg Civil War Centennial
also by Norman Keefer. This 20 page booklet contains l
ocal history of the Civil War in Mechanicsburg, PA and surrounding area.
M
ust reads for history buffs!
Restrictions:
Pre-owned. Book is in good condition. Dust jacket is a bit edge worn. The pre-owned booklet is in very good condition with a slight yellowing of the cover.
---
Thank you from the Joseph T. Simpson Public Library and the Friends of the Joseph T. Simpson Public Library. We appreciate your support!
Joseph T. Simpson Public Library EIN 23-1652343