The Met Museum Store Versailles Gilt Door Journal
Auction item details Item # A340
Value: $20
Donated By:
Simpson Library Book Sorters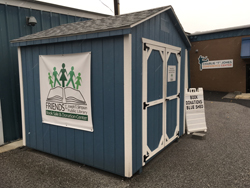 Description:
Record your thoughts in this journal that contains 132 lined pages and a red ribbon marker. It is hardcover with gold gilt decoration closely resembling doors found in the Palace of Versailles. Approximate measurement is 9" H x 7" W.
Restrictions:
Pre-owned. Wrapped in cellophane with minor damage to the top right corner of the book.
---
Thank you from the Joseph T. Simpson Public Library and the Friends of the Joseph T. Simpson Public Library. We appreciate your support!
Joseph T. Simpson Public Library EIN 23-1652343