Anderson's Conn Valley Vineyards Eloge 2012
Auction item details Item # A79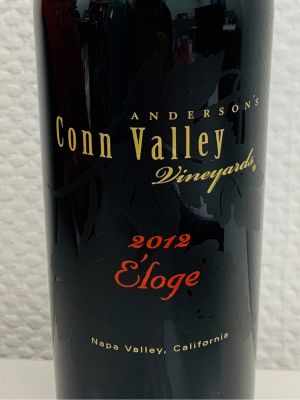 Value: $120
Anderson's Conn Valley Vineyards Eloge 2012
Anderson's Conn Valley Vineyards Eloge 2012
Bordeaux Red Blends from Napa Valley, California


Winemaker Notes
The 2012 Eloge is one of the most ripe and approachable offerings of this wine to date. Lovely aromas of bright red fruits, accentuated with coco and floral notes to give a multi layered aromatic. The 2012 Eloge is dark, racy and voluptuous, with plenty of dark red cherry, plum, spice, menthol, new leather, chocolate, espresso and clove nuances. Over the past year, the 2012 has become much more aromatic and light on its feet.
Blend: 54% Cabernet Sauvignon, 21% Cabernet Franc, 22% Merlot, 3% Petit Verdot.

Critical Acclaim

93 Antonio Galloni - Vinous
The Nose: The 2012 Eloge is one of the most ripe and approachable offerings of this wine to date. Lovely aromas of bright red fruits, accentuated with coco and floral notes to give a multi layered aromatic.

The Vintage: 2012 in Napa was as close to a perfect vintage as we could ask for in Conn Valley. We harvested at the end of October and picked the largest yield we have ever had at Conn Valley Vineyards. This is a vintage we are extremely excited about, it truly shows off how wonderful a spot we have in Conn Valley, and how skilled our team is at growing grapes and making wine.
Donated By:
David McCarthy
Please include your cell phone number to receive updates throughout the evening on auction items, closing times, special announcements, etc.


If bidding strictly online, winning bidder is responsible for all shipping costs. Any packages that include liquor must be picked up at Wustum Museum. Federal regulations forbid the shipping of alcohol unless we are the manufacturer of the product.