Columbo Prop - Found Hanging in Mr. Shatner's Garage
Auction item details Item # A8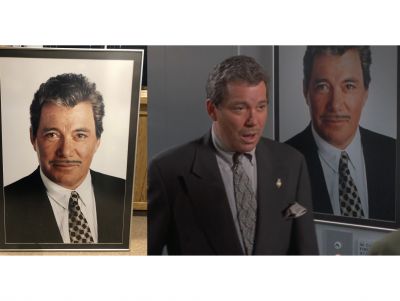 Value: Priceless
Columbo Prop - Found Hanging in Mr. Shatner's Garage
This framed image has been hanging in Mr. Shatner's garage for years. It's the headshot from his Tek War book days (it's the photo used on the dustcover over the hardbound edition.)

Someone drew a pencil mustache on it. Mr. Shatner didn't remember where it was from.
It's actually a prop used in Mr. Shatner's famous Columbo Episode Butterflies in Shades of Grey.

The prop is one of several seen at the radio station during the episode.

IMr. Shatner has signed it on the back of the frame.

Imagine owning a prop photo from that Columbo episode that actually hung in Mr. Shatner's own home (well, his garage.).

Imagine the history this piece has been witness to.

Get a piece of history now!

Measures 37" H X 27" W.

Please remember to account for the framing and special packing, shipping and handling for an item of this size when making your bid.
Restrictions:
Please Note: Your bids represent amounts for the items only.
We use a third party shipper who will be in touch if you are the successful bidder to offer various shipping options to you at an additional cost. Please ensure that you understand the size and weight of each item before bidding.
Please Ask Questions as Items are **FINAL SALE!**
Again bids are for items only: shipping is NOT included!!!
Donated By:
William Shatner