Everyway Shawl - Hand Knit by Susan Smith
Auction item details Item # A30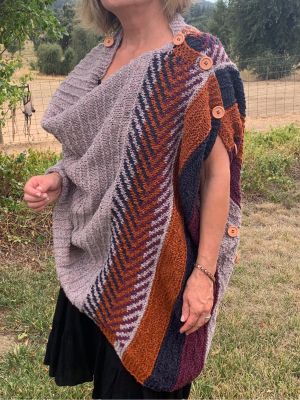 Value: $100
Everyway Shawl - Hand Knit by Susan Smith
Everyway Shawl Hand Knit by Susan Smith

This Shawl is called Everyway Shawl because of the various options for wearing it. You can throw it over your shoulders and drape it across your arms to stay cozy on a winters day. You can button it across the top and wear it as a poncho (as shown) or button half of the side buttons and wrap it twice around your neck like a cowl, letting the corners drape like a triangle shawl.
The rustic look comes from the 100% wool worsted-weight yarn from Brooklyn Tweed, which despite its name is headquartered in Portland, OR.
Donated By:
Susan Smith
Windows To My Soul is a 501(c)(3) charitable organization, Tax ID 46-3598122. All proceeds benefit Windows To My Soul. info@windowstomysoul.org - 530.620.2760