Another Encounter 2019 by Marilyn Propp
Auction item details Item # A61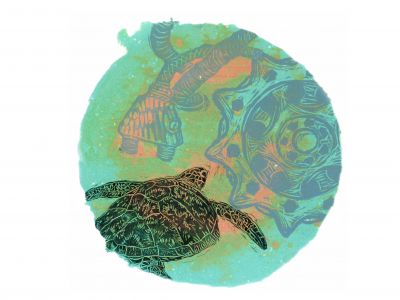 Value: $400
Another Encounter 2019 by Marilyn Propp
Another Encounter, 2019 by Artist Marilyn Propp - a SAVOUR Artist.
9 1/2" x 9 1/2"
Relief print on handmade cotton paper with pulp painting
"Notes from the Sea Series," explore the class/coexistence between marine life and industrial waste. Machine parts morph into life forms (gears become diatoms) as they drift through the ocean. The turtle is an ancient symbol of longevity, endurance, and creativity. In this image it bumps up against or is inquisitive about the machine parts drifting though its habitat.
Donated By:
Marilyn Propp
Please include your cell phone number to receive updates throughout the evening on auction items, closing times, special announcements, etc.


If bidding strictly online, winning bidder is responsible for all shipping costs. Any packages that include liquor must be picked up at Wustum Museum. Federal regulations forbid the shipping of alcohol unless we are the manufacturer of the product.