Children's Musical Theater
Bidding starts Mon, Mar 19, 2018 at 6:00:00AM
Auction item details Item # A202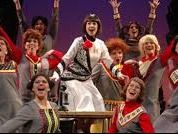 Value: $70
Two Children's Musical Theater Tickets
Gift certificate for two tickets to the recipient's choice of CMT's productions through the end of the 50th season.
Restrictions: Must be used for productions in 50th season through August 2018.
Donated By:
Children's Musical Theatre

All Sales are Final
Thank you for supporting the Peninsula Women's Chorus, a
 non-profit 501(c)(3) organization #20-0513547.