Learn to Needle Felt!
Bidding starts Mon, Mar 19, 2018 at 6:00:00AM
Auction item details Item # A145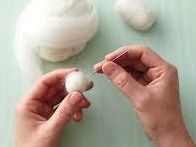 Value: $40
Learn How to Needle Felt Party on 4/15/18
Learn how to needle felt at this hands-on tutorial party. There will be light snacks and you will learn how to make a small craft using the technique of needle felting. The party is Sunday, April 15, 2018 from 2-4pm at the home of Jennifer Katz in Mountain View.
Donated By:
Jennifer Katz
All Sales are Final
Thank you for supporting the Peninsula Women's Chorus, a
 non-profit 501(c)(3) organization #20-0513547.